$5,000
Scholarship Winner
$2,500
Scholarship Winner
$2,500
Scholarship Winner
Note: all winners have already been contacted.
Reduce your cost of college with credit-by-exam.

Did you know that you can test out of college courses? You can! Over 90% of colleges and universities accept credit-by-exam test credits such as CLEP, DSST and ECE exams. No application required. Study at your leisure, use any device, take an exam, and earn college credit when you pass the test! It's that simple, and you never have to step in a classroom. Best of all, you don't have to pay the big tuition dollars to test out (you'll save a ton of cash and graduate early). Take that next important step to a debt-free degree–check out our friends at SpeedyPrep who have helped thousands of students and families save time and money with their budget-friendly credit-by exam test prep materials. Not only is this a game changer for you, but SpeedyPrep also offers a money back gurantee if you don't pass on your first attempt. www.speedyprep.com

BONUS: To help you save even more money, use coupon code "RAMSEY"
and get 50% OFF a one-year subscription to SpeedyPrep.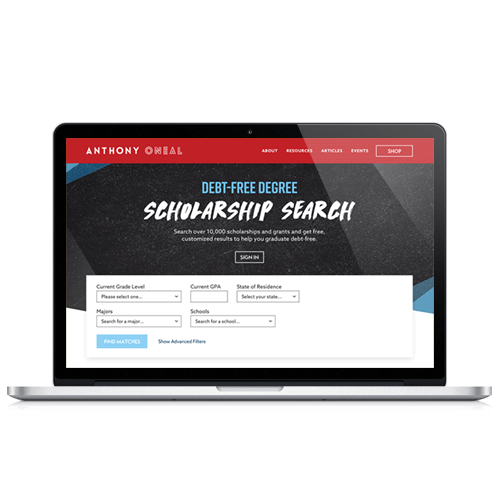 Find scholarships
to help you pay for college
Search over 10,000 scholarships and grants and get free, customized results to help you graduate debt‑free.
Calling all high schoolers
We want to hear from you!
Take our five-minute survey and be part of a groundbreaking research study on personal finance.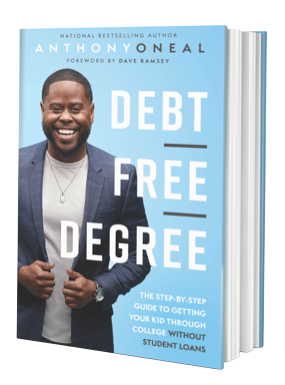 Graduate Debt-Free!
My new book, Debt-Free Degree, is the step-by-step plan for going to college without student loans.


MEET ANTHONY
Ramsey Personality, best-selling author, speaker and youth expert, Anthony ONeal helps students make good decisions with their money, relationships and education. Anthony is passionate about helping students pursue their passions while living a well‑balanced life.
READ MORE